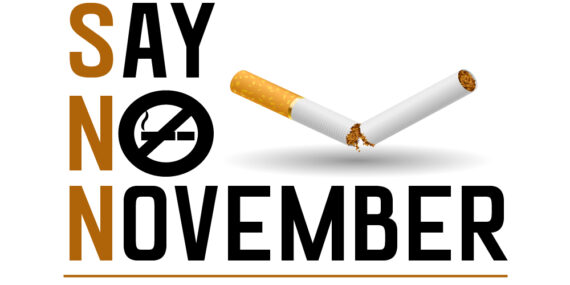 What is Say No November?
SNN is a campaign we run every year to celebrate your success in quitting smoking and helping others do the same. It's also a time where we focus on bringing awareness to how vaping saves lives. The Vapor Industry is always under scrutiny which threatens the availability of these life saving products.
At Max and Zach's, we're all about helping people kick ash and stay smoke-free every day of the year, but we make it an extra big deal in November. This year, SNN is about saying 'no' to cigarettes, saying 'no' to flavor bans, and saying 'no' to over-spending.
How to Save Money with Vaping
Not only are cigarettes dangerous to your health, they're also harmful to your wallet. If you've been on the fence about switching to vaping, consider how much money you're spending on cigarettes. Plus, with the health problems that could arise from smoking cigarettes, you could expect to spend even more on doctor visits and medication. Vaping is not only 95% safer than smoking cigarettes, it's also cheaper.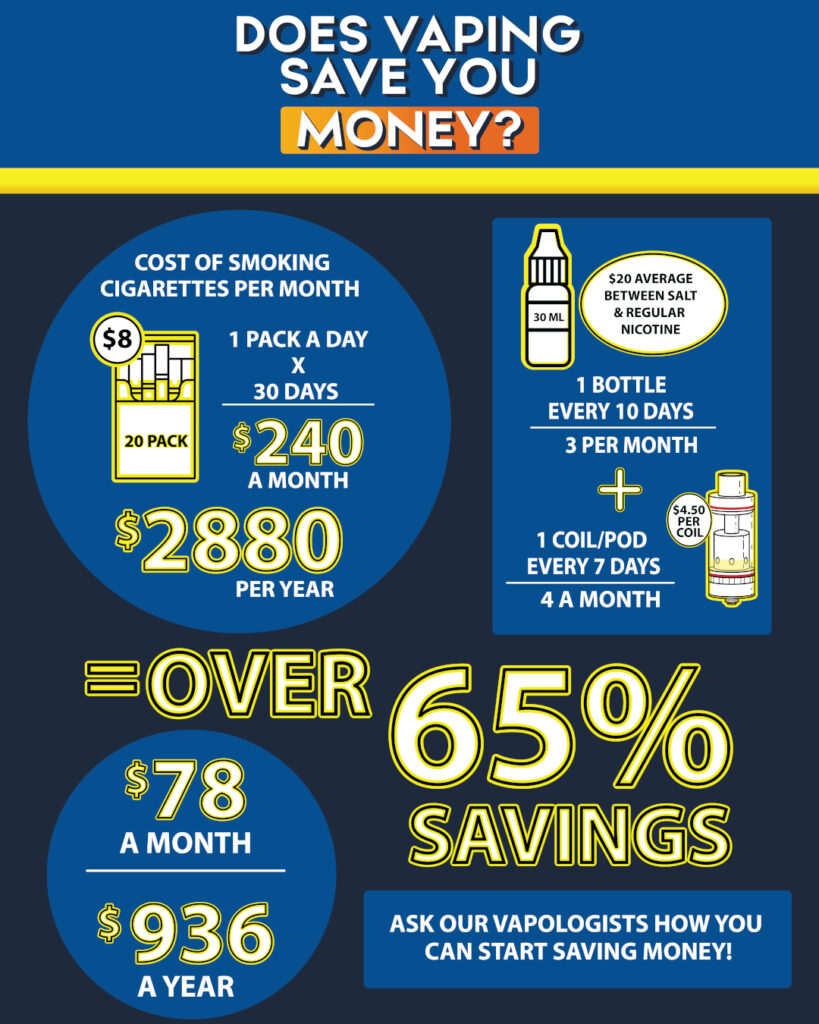 We understand the hesitance in switching to vaping because of the misinformation surrounding the topic. With anti-vaping campaigns and the 2019 EVALI outbreak, people have been afraid to give vaping a try to help them stop smoking cigarettes.
What most people don't know is that the CDC finally stated that the cause of the EVALI outbreak was due to illicit THC cartridges that contained vitamin E acetate.
The CDC continues on to also say,
If [adults] choose to use e-cigarettes as an alternative to cigarettes, they should completely switch from cigarettes to e-cigarettes.
This statement shows that vaping is better than smoking cigarettes, straight from the CDC themselves. Stop by and speak to our team to learn more or get started on making the switch today!
Are You Over-Spending?
Disposable vapes can be really handy. They make a great backup device for days/nights out, and they're an inexpensive test to see if vaping will work for you.
However, if you vape them regularly, they become an expensive vaping device. If you enjoy the convenience of disposables and the small size, check out how much you could save with a refillable device of the same style.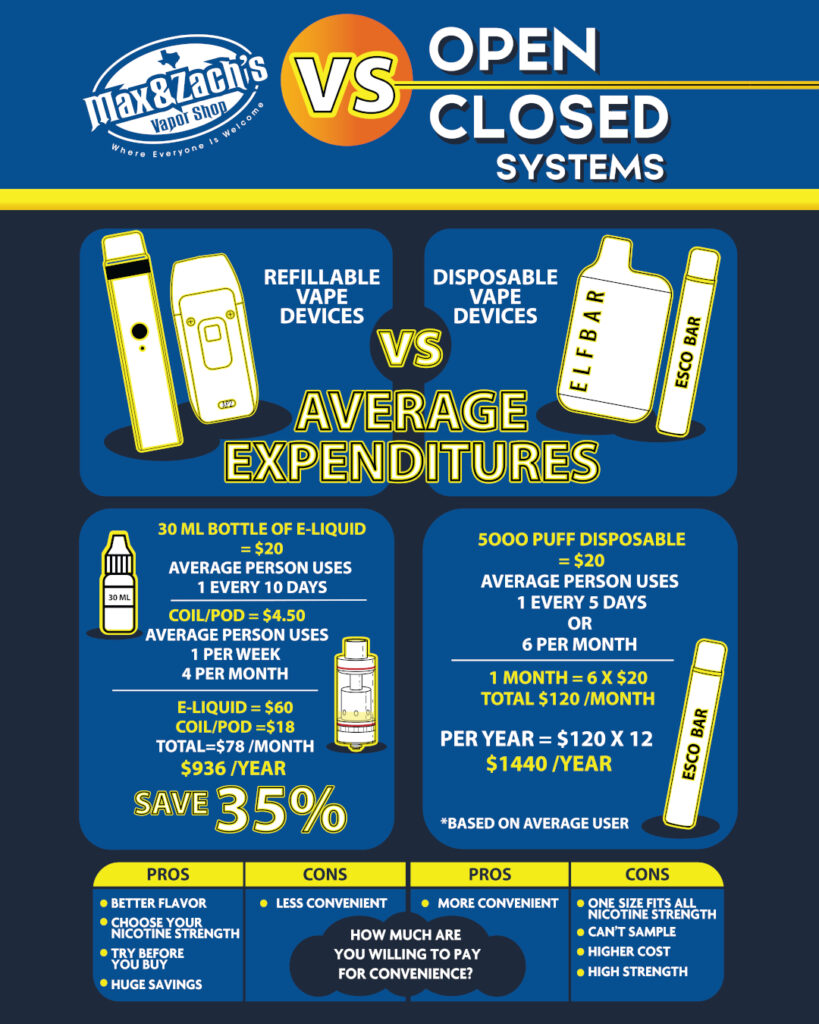 Additionally, they contain the highest amount of nicotine which can hinder your goals if you're trying to cut down on nicotine intake.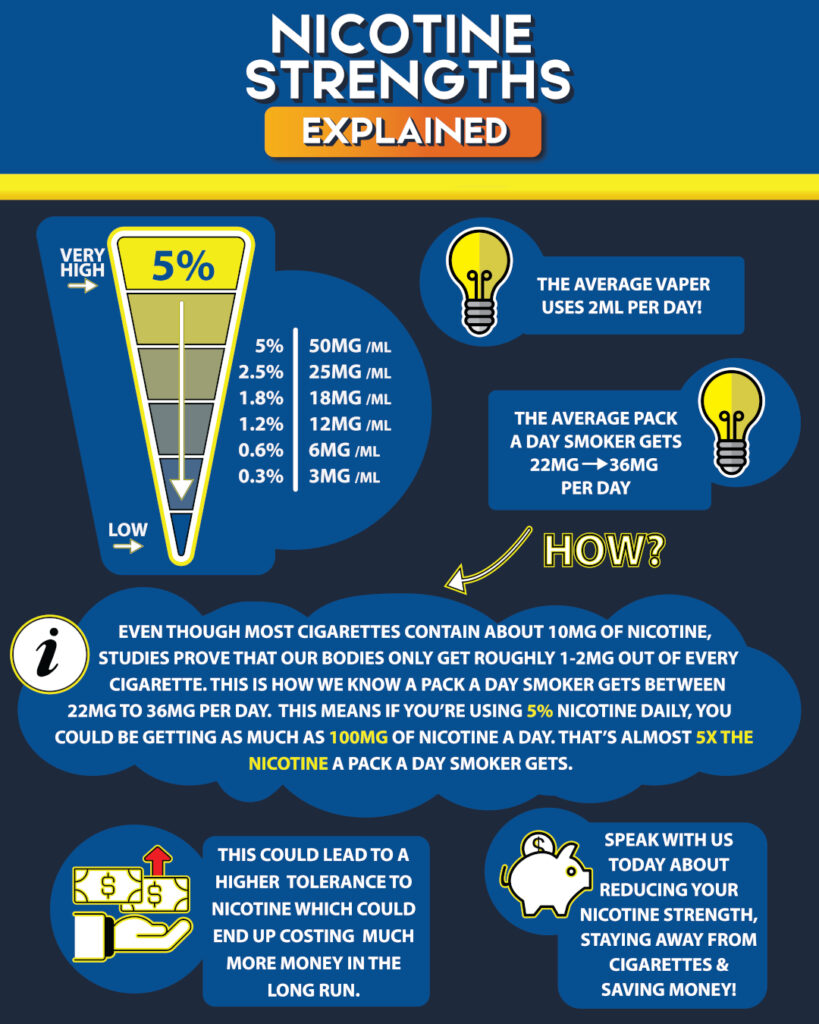 Switcher Kit Deals
We call it a "Switcher" kit instead of a "Starter" kit because these kits aren't just for those making the switch to vaping for the first time.
Whether you're trying to stop smoking cigarettes, or you're looking to switch to a refillable device to save money, these kits are perfect for the job.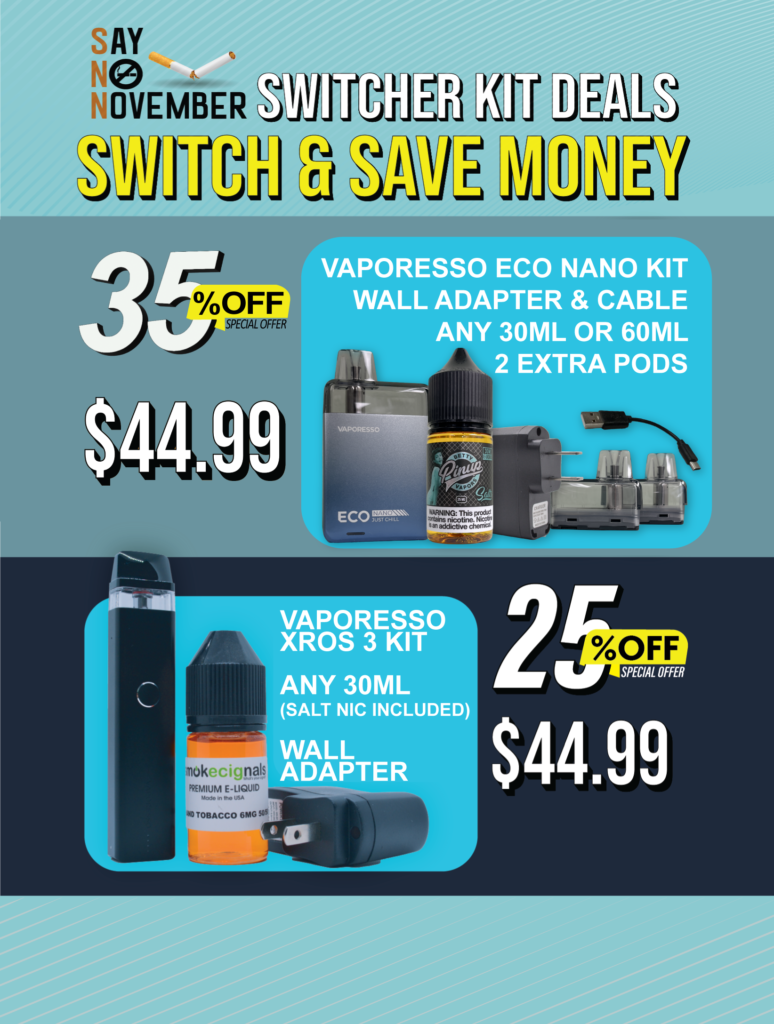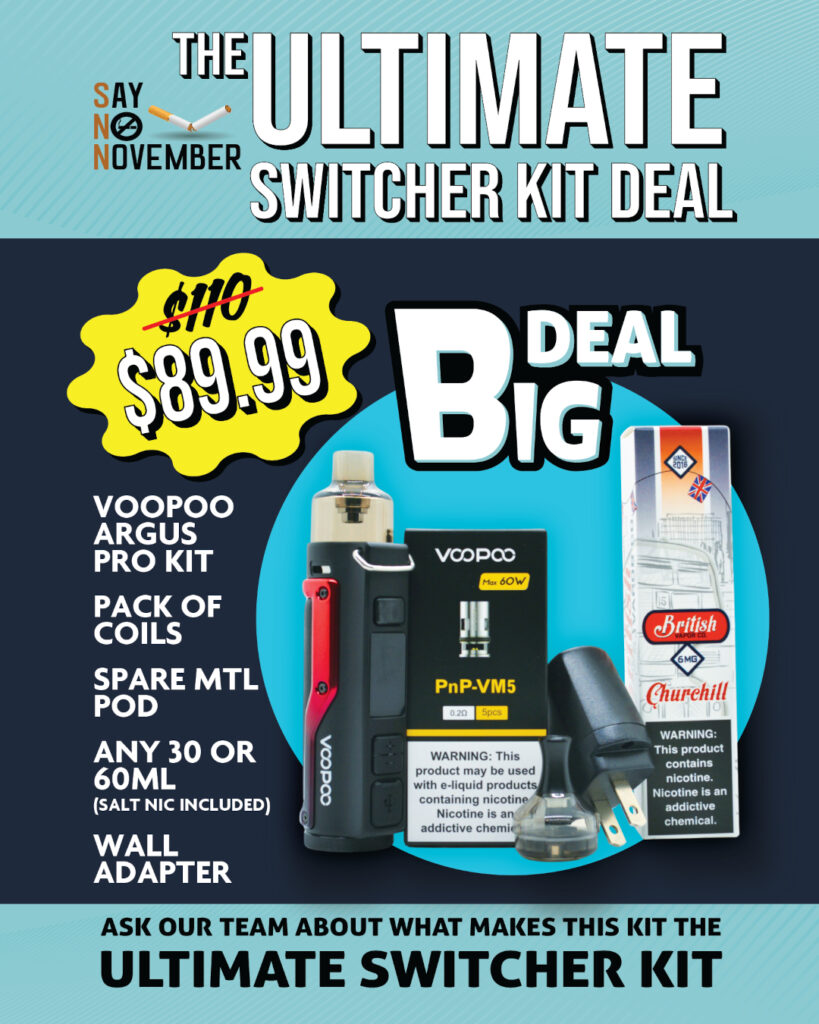 Our 3 Step Process
Kicking a smoking habit can be an overwhelming thought. That's why we've made it as easy as 1-2-3.
To effectively help you stop smoking, we've trained all of our team members on our 3-step process. With this in mind, you can visit any of our locations to stop smoking and make the switch today.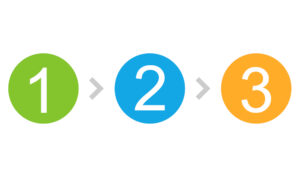 Step 1 - Finding the right nicotine strength.
This is without a doubt the most important part of our process. The nicotine strength is what will emulate the feel of a cigarette's throat catch that we call a 'throat hit'.
Step 2 - Finding the right flavor
Flavors play a crucial role in helping adults make the switch to vaping. You may want something familiar that tastes like a cigarette, or you may want to get away from any reminder of a cigarette and opt for a mystery fruit flavor instead. Whichever you decide you prefer, we've got it in stock.
Step 3 - Finding the perfect setup for you
You can get set up and on the road to a cigarette-free life with our Switcher Kit Deals that include everything you need to get started, including E-Liquid, for just $44.99.
We've hand selected three different bundle deals with kits that are perfect for those trying to stop smoking or save money with a refillable device.
Stop by and speak to a Vape Expert to go through our 3 step process today!
Referral Program
If vaping has helped you stay smoke-free and you have friends or family who could use some help doing the same, send them our way! We're trained and ready to help them stop smoking cigarettes. Plus, you'll get bonus rewards.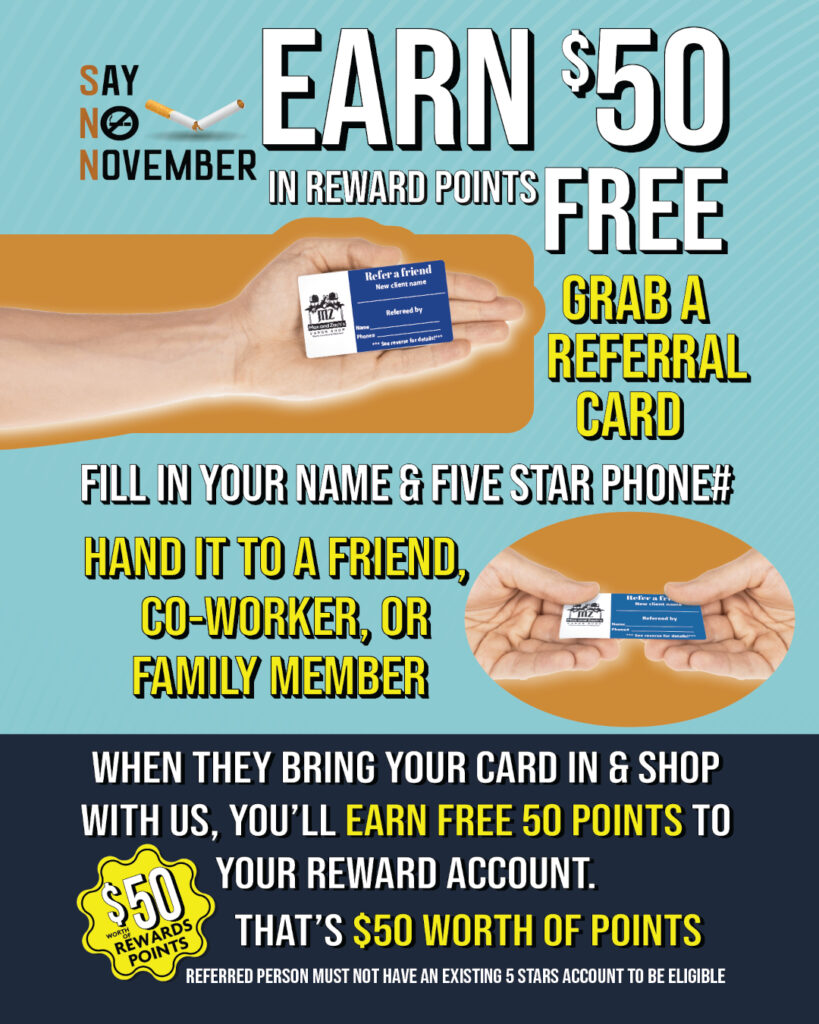 Grab a referral card from us and give it to a friend, co-worker, or family member who is trying to quit smoking. When that person comes in to make the switch, you will receive $50 worth of reward points!
*Referred person must not have an existing Five Stars account with us to be eligible*
Our Past Say No November Campaigns
We're going on four years strong with our campaign. Thanks to your help and others around the country, we've successfully fought to keep vaping available and affordable.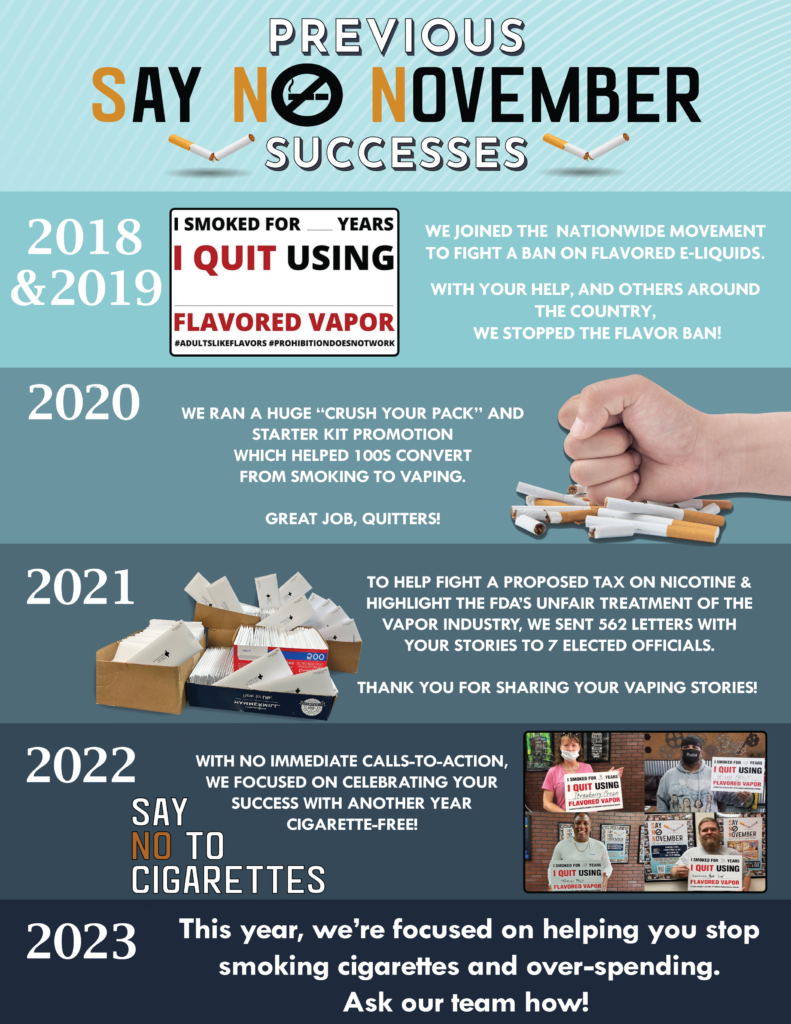 You can get involved with this year's campaign by sharing your story! Tell us about how vaping helped you quit smoking and take a picture with our sign.